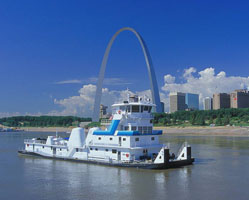 Humco Marine Products, Inc. has been providing the finest quality products and customer service to the marine industry since 1966. Our company philosophy remains the same today as it has through the years and that is to provide all customers with high quality materials and products at competitive prices.
Humco has a reputation for customer support with immediate availability of over 100,000 marine products located in our inventory. We carry a full line of marine bearings, searchlights, winches, deck fittings, soft ropes, safety products, all types of marine lighting, and shipboard cable. In addition, we have full lines of replacement parts and accessories for all your components. Our knowledgeable sales staff can help you identify the high quality equipment needed to keep you running full speed ahead. With thousands of items in inventory, we provide your vessels with the products and materials you need to keep your crews moving up and down the river.
We are located in St. Louis Missouri just west of the confluence of the Mississippi and Missouri Rivers. Our centralized location means fast delivery to support the marine industry and commerce across the Inland Waterways and Western Rivers.
Humco is known for excellent and reliable customer service. We continue to take pride in our reputation for providing high quality products with prompt and dependable service to all customers. See what Humco Marine Products can do to support your vessels and your company. We are ready to serve you.